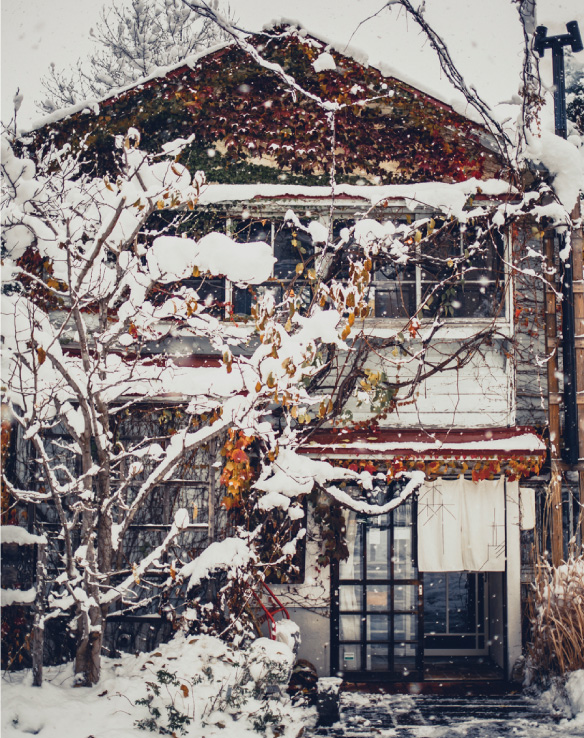 In 1991

Make the tea room "Getsuan" by hand made by Sousuke Ichikawa himself.
In 1996

Tea ceremony "MORIHIKO" founded (26, Minami 2 jo nishi, Chuo-ku, Sapporo),Yoshikazu Ichikawa (currently the father of the representative) is the first owner.
In 2000

Tea ceremony "MORIHIKO" is transferred from Field Note Co., Ltd., and Sousuke Ichikawa has become the owner. In the same year, he establishment a "Natural Landscape" is own business as a designer.
In 2003

He has starting self-study about roasting of coffee. (use a 4 kg roasting cooker)
In 2006

Opened the second store "ATELIER MORIHIKO". (12, Minami 1jo nishi, Chuo-ku, Sapporo)
In the same year, he employed a pastry chef and started manufacturing confectionery.
In November 12, 2007

Established ATELIER MORIHIKO Co., Ltd.
In the same year, Opened online shop " MORIHIKO MONOGATARI".
In 2010

Start produce to Donut brand "D×M". Coffee roasting (use a 15 kg roasting cooker) and confectionery manufacturing within D×M, temporary.
In 2011

Opened the third store "PLANTATION", and confectionery workshop "MARIE PIERRE".
At the same time, established a coffee roasting factory confectionery factory.
In 2012

Held a press the "Marchè de GRENIER". (Held twice a year, until now)
In 2015

Opened the first beans shop "MORIHICO & THE ALTERNATIVE" at basement 2nd floor, Sapporo PARCO.
In 2016

Starting first Franchise business from "MORIHICO.TSUTAYA at Utsukushigaoka store".